November 1st, 2011
Upcoming SoJARS Events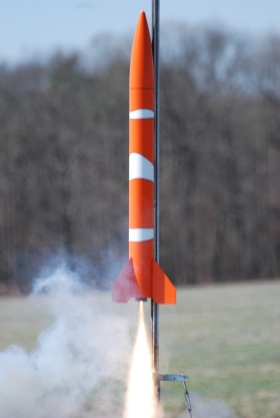 November Launch at Cross Keys Field
Sunday November 13th 10 AM - 3 PM
Our normal launch date would be Nov 20th, but that is the weekend MDRA is having Red Glare XI http://www.mdrocketry.org/Launches/RedGlare11/ and since most of our memberswill be there, we have moved our launch to the week before. If needed, a makeup date will be Nov 27th
Check the web site for updates, and our Facebook or Twitter pages the day of, for updated information.


The club meeting is Tuesday November 22th at the Woodbury Public Library at 7 PM. See web page for more details.

This will be the last meeting of 2011
Altitude!
In an attempt to revive our newsletter, Altitude!, I'm seeking out any launch reports (from any launches with any club you've attended recently), articles about building/painting/flying techniques, kit reviews, book reviews, your favorite launch photos...anything and everything! In the future I'd like to include detailed launch flight logs and meeting minutes as well. There's no minimum or maximum length for articles, just whatever you feel like putting together. The more that we all contribute the more we all learn and enjoy! If you'd like to contribute something please send me a message on Facebook. I would like to send the first new issue out some time in November so please don't hesitate.

Sincerely,

Randy DePasquale



Past SoJARS Events
After months of rain and wind and launches being canceled, October give us two great launches. We had an impromptu launch on October 9th just because the weather was so great. The corn wasn't cut yet, but we didn't lose many if any rockets. Our normal schedule launch date wasn't quite a warm, but the corn was cut and there was little if any wind. We had a good turnout of new and older members. There are photo's up of both launches in photobucket. Oct 9th Oct 23rd

At the October meeting a couple of range issues were brought up and discussed.

1. There were cars parked too close to the launch pad. In the future we ask members not to park close to the launch pads. The club is also going to expand the launch area away from the parking area so it will be easier for people to park way from the pads.

2. Children going after other peoples rockets. We like having children at our launches as they are the future of our hobby, but they do need to know that they just can blindly retrieve other people rockets. Some people do care but others would prefer not to have them go after them. Parents should instruct their children that they need to get permission to go after someone else's rocket and they still need to wait till the LCO give the all clear to go retrieve. Children also need to pay attention at all time what happing on the range at all times.

3. Return of flight cards. We have been relaxed about flights at the last couple of launches but we will be returning to filling them out for each launch. A computer fillable pdf will be on our website for those who want to print them up before hand or you can get them from the LCO table. This will help out Randy for launch reports.
Join the NAR

SoJARS is a charter section of the National Association of Rocketry. The NAR supplies the insurance policies for the landowners that make it possible for us to secure fields. Without these insurance policies, we wouldn't be able to find a field to fly from. As a NAR member, you are also covered by the NAR insurance when taking part of NAR model rocketry activities. The NAR also works to promote and protect Model Rocketry activates. If you are already a NAR member, thank you for supporting this valuable organization.

If you not currently a NAR member, please consider joining. Remember to enter SoJARS, 593 as your club. The club will get $5 for each new member we sign up. If you put me down as your referring member (Bruce Canino 39989), I will donate the $5 referring member reward to the club. See http://www.nar.org/NARjoin.html for more details.
SoJARS Merchandise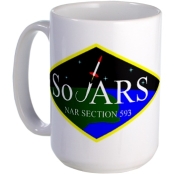 Get your SoJARS Merchandise, Hats, shirts, tees, mugs and bumper stickers with the New or Retro SoJARS logo at our web store at cafe press.